Other than performing major surgery on you (which we are regrettably unqualified to do), we firmly believe that photographing your wedding day is pretty much the biggest responsibility that you could possibly entrust our photographers with. We also believe that in order for our photographers to fulfill their responsibility to you and be able to sleep at night with a clean conscience, they absolutely need to know their s**t.
So, here's how we make sure that you are going to have an awesome photographer shooting your wedding: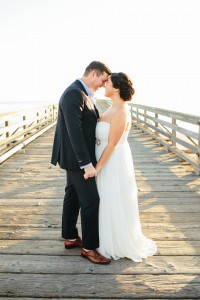 1) Before our photographers ever even go to a single wedding, we spend weeks training them in photography and customer service skills with a specific focus on mastering the skills that are necessary in a fast-paced wedding environment.
2) Once our photographers have gone through training (which we lovingly call "boot camp"), we have them participate in photo contests with each other where they are given photo assignments to practice key skills that we have taught them and learn new styles so that they are always practicing, always learning and always getting better and better as photographers.
3) We send our photographers to at least a dozen real weddings where they shoot along side full time, highly experienced, professional wedding photographers so that our photographers can get real life wedding experience.
4) After each of those weddings, those photographers give our photographers critique of their photography and also let them know if there were any issues in judgment/professionalism. We encourage them to keep being awesome with things they do well, and whip critique them when there are things that we think need improvement.
5) If they are doing really well at the real weddings that we are sending them to, then, and only then, do we allow them to start booking and shooting their own weddings.
6) Finally, we believe that having a good rapport with your wedding photographer is a huge part of enjoying your wedding day. So, the person sitting across from you at the initial client consultation answering all of your questions for you will be your photographer. Not a manager. Not a salesperson. Likewise, all of our wedding packages include a complimentary engagement session with your photographer so you can get to know your photographer even better and get comfortable with their shooting style.
Now that you know our secret recipe for awesome photographers, contact us using the link above if you would like more information about us, our pricing, and to find out which photographers are available on your date or feel free to email us at theboss@pie-shoppe.com